Application Note for DLC-02 Product Function Optimization (Part 2)
Technical Service Center / Edision Chang

Continued from the DLC-02 product function optimization application description (Part 1), MEAN WELL enhances the product function of the DALI-2 digital lighting controller in order to maximize the system integration flexibility and suit the actual application requirements. This time, the software interface and product functionality have both been updated to version R3.0.
Order
Function

1

TCP/IP Commissioning

2

Offline Edit

3

HCL (Human Centric Lighting)

4

Optimize Sensor Functions

5

Combination Output

6

Password
1. TCP/IP Commissioning

The DLC-02 offers an RJ45 network interface port that supports the TCP communication protocol in addition to the basic USB interface. Users can use the "DLC software" to examine and configure the parameters and effects of the DALI device, making it convenient for remote operation, and wireless communication can be carried out with a wireless device when the DLC-02 and the computer are set up in the same network domain.


2. Offline Edit

The DLC software adds 64 virtual lamps and 16 virtual input devices to each DALI bus. Users can configure parameters and effects of virtual objects outside the site and create project files.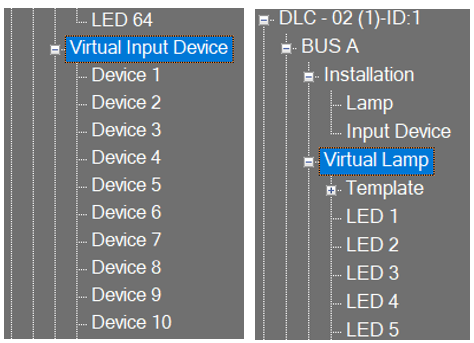 When installing on site, by connecting to DLC-02 through USB or TCP communication, DALI address of the actual lamp and input device of the virtual object can be easily paired via "write configuration" operation. Pre-created project file will be implemented effortlessly.
As shown in the red box in the figure below, pair the "virtual lamp LED1" with the "color temperature lamp with DALI address 1".


3. Human Centric Lighting

Human Centric Lighting is the art of creating lighting that mimics the natural daylight which drives our bodily functions. It can greatly improves human performance, comfort, health and well-being.

The Human centric lighting setting interface is as follows. Through the time schedule setting, the fixtures will adapt to corresponding brightness and color temperature at different stages. The dimming response time provides 2/10/30 minute interval options. For example, step1 is set to 2000K; step2 is set to 3000K. When the interval is 2 minutes, the color temperature is adjusted to 33K each time.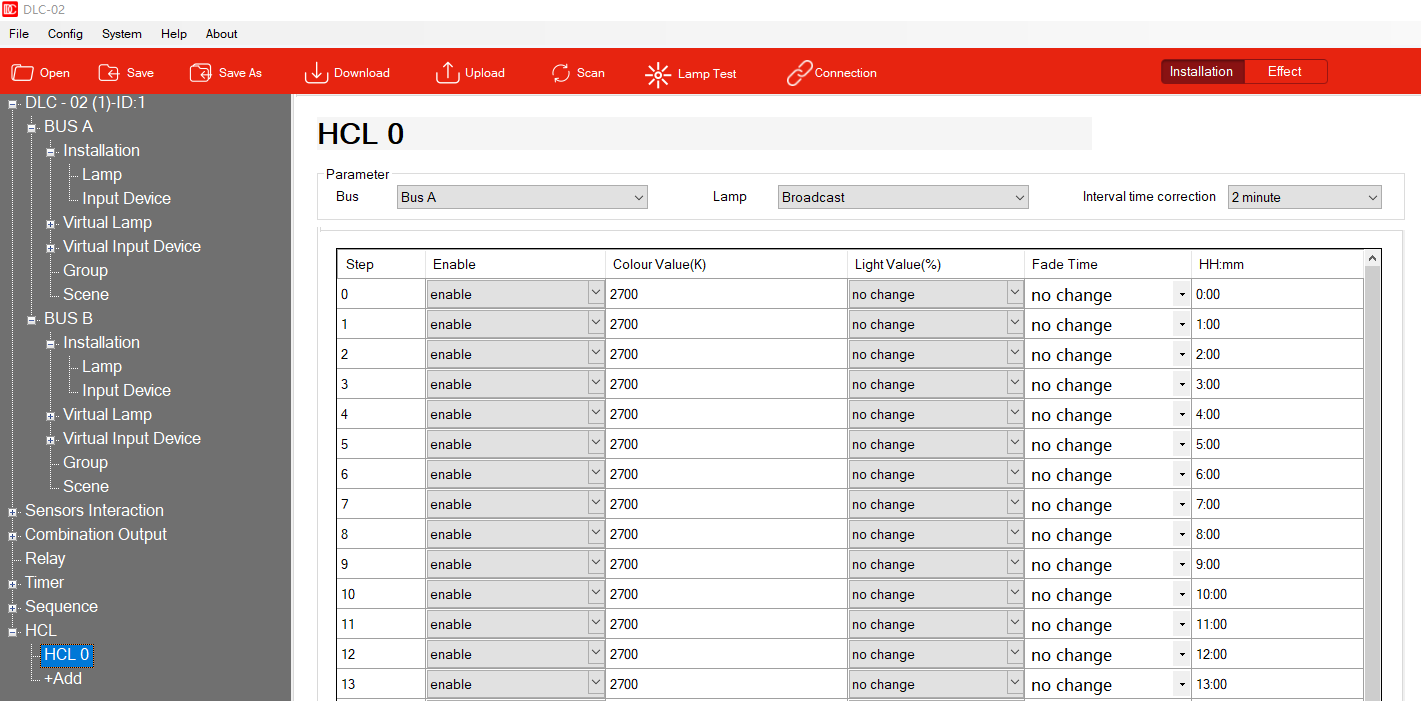 4. Optimize Sensor Functions

Occupancy sensor and brightness sensor are added combined mode. The brightness sensor can adjust the brightness of the interval according to different needs with are three modes: constant illuminance, step-by-step dimming, and daylight following. The following are their curves.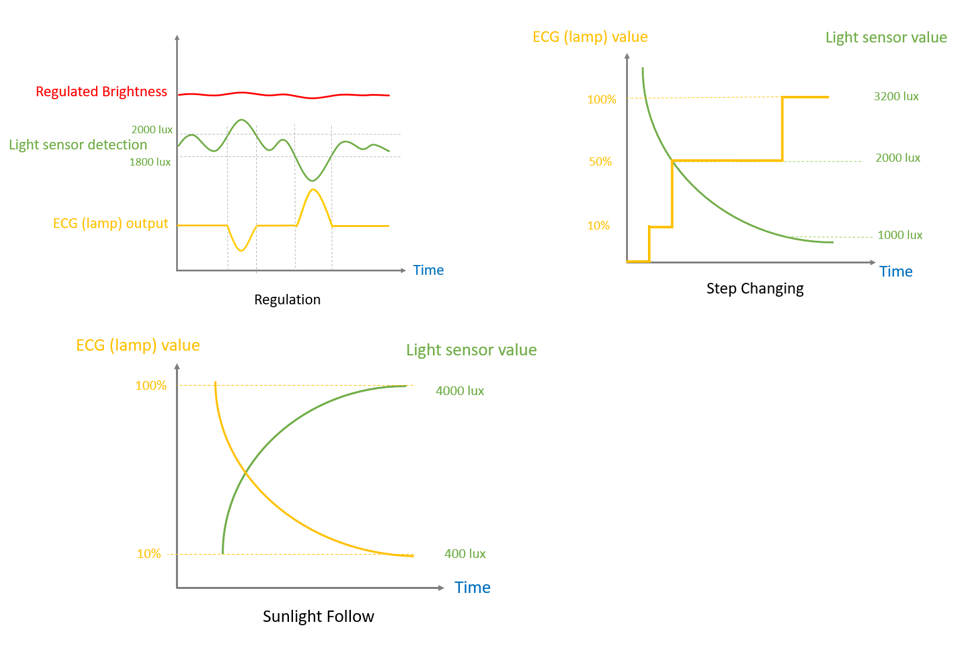 5. Combination Output

Lighting fixtures, groups and relays can be integrated into the same combined output, and the brightness of each lamp can be set individually. By using DT8 fixtures to set the brightness and color temperature of the scene, the trigger of the combined output can be controlled by a timer or a button switch.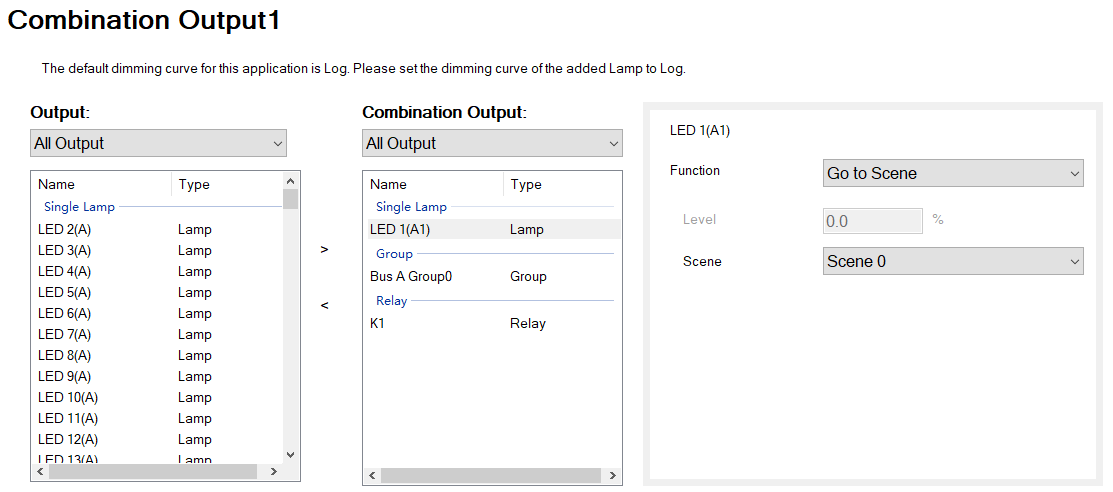 6. Password

To prevent system from hacking, the project password and DLC-02 local password can be configured.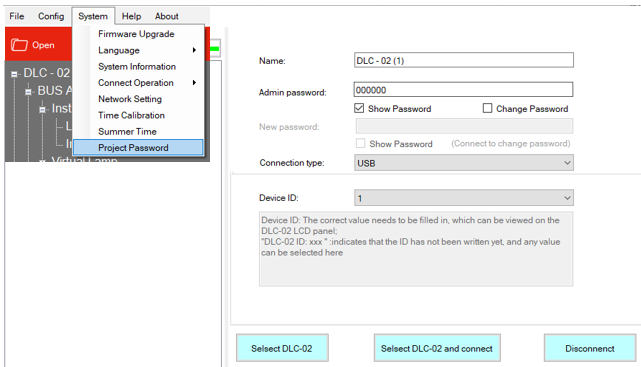 For product information, please contact our authorized distributors and local representatives for professional support from MEAN WELL.