LCM-40TW Series: 40W Tunable White (DT8) LED Driver

By: Rex Lin / Product Manager
Rex.Lin@meanwell.com

How can we use digital controls to more seamlessly integrate lighting into physiological and psychological daily life by modulating ambient light to complement particular human activity? According to IEC 62386-209 (DT8) standards defined by the DALI Association, digital controls, such as MEAN WELL's LCM-40TW LED driver, can turn lighting into a better situational and atmospheric environmental component. When DALI controls digitally produce ambient temperatures programmed according to a daily routine, the resulting lighting can improve physical and psychological comfort, efficiency and performance, providing truly Human Centric Lighting - turning lighting into more than just lighting.

MEAN WELL has launched its LCM-40TW LED driver in line with DT8 applications. The LCM-40TW provides two output channels for two sets of LEDs with different color temperatures, which can be used with multi-stage currents adjustable from 500 to 1050 mA. It can be adjusted by customers to match different LED modules. In addition, when the user does not engage the DALI bus, they can also use the DALI interface with the Push-dim button to adjust color temperature, allowing users to achieve adjustable ambient lighting according to existing field conditions.

LCM-40TW is mainly used for tunable white applications. It can adjust the ambient color temperature through the two output channels. The maximum consumption of the two outputs does not exceed 40W. Other applications can also be adjusted through the Dip-switch, which can be used as a single or dual outputs (DT6) dimming LED driver. In addition, MEAN WELL's DLC-02/KN DALI controller can also be updated with DT8 dimming function by visiting MEAN WELL's official website to download and update the firmware for the updated system.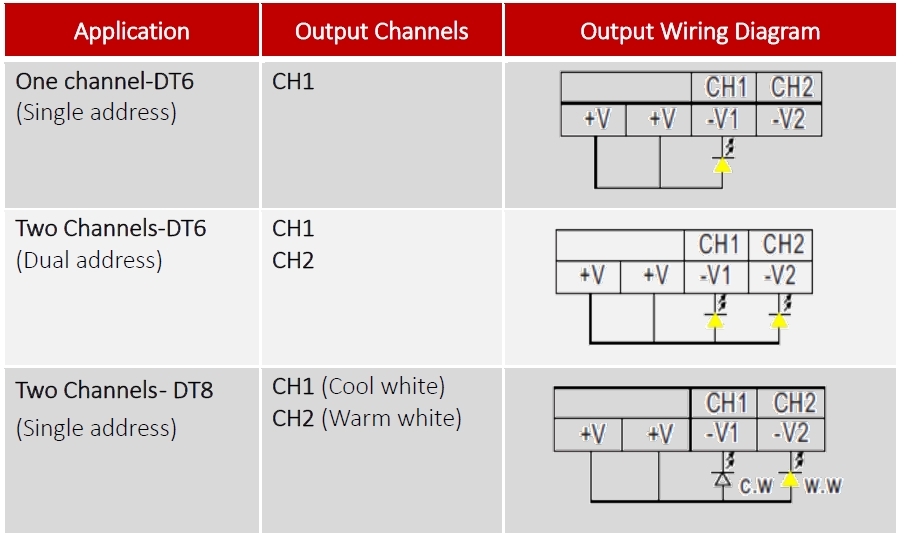 DALI device type 6 (DT6) and device type 8 (DT8) available
Output current 6 segments (500~1500mA) adjustable by Dip-switch
Plastic housing and class II design without FG
Built-in active PFC and no-load consumption <0.5W
Flicker-free design and minimum dimming level 0.2%
Protections: Short circuit/ Overload/ Over temperature
Lifetime >50,000 Hrs, 5-year warranty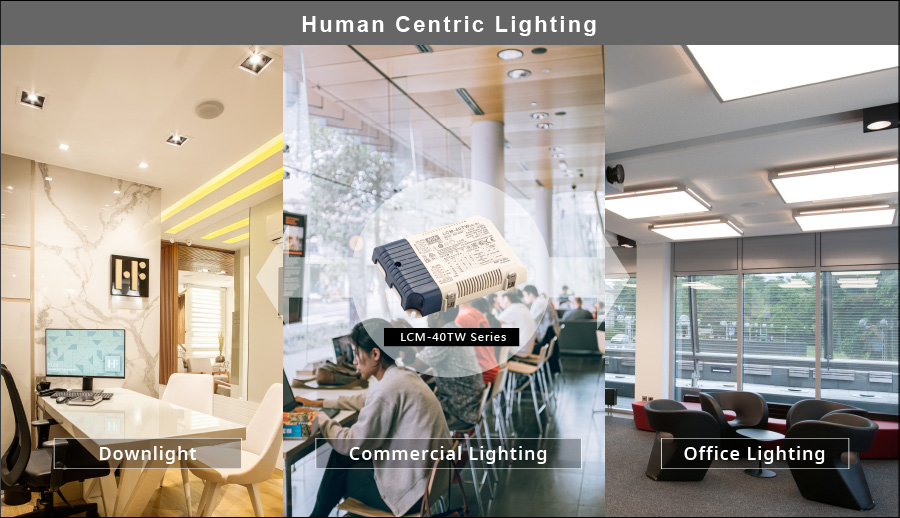 LCM-40TW Series