The Extension of The XLG Series | XLG-20/320 Series: 20W and 320W LED Power Supplies

By: Rex Lin / Product Manager
Rex.lin@meanwell.com

MEAN WELL XLG series has been on the market for three years, and the sales volume is still growing. It is widely recognized by customers for the quality and price of the series. In order to provide customers with a wider range of applications, MEAN WELL has supplemented the XLG product line more completely, adding the XLG-20 and XLG-320 series, so that the range of the entire product line covers applications using from 20 ~ 320W. The product design continues the XLG series, in line with the latest regulatory requirements and isolation dimming design. The whole series adopts independent control gear certification and conforms to the IP67 waterproof standard, which is convenient for customers to use with luminaires in situations involving relatively humid conditions and externally mounted configurations.

The XLG-20 series adopts constant current design and provides three different driver currents of 350/500/700 mA, which can be used directly with SMD or COB LEDs. The compact size of 95x63x30mm is suitable for a wide variety of indoor and outdoor luminaires, including outdoor road lights/street lights/tri-proof lights/recessed lights and down lights. The XLG-320 continues the constant power design of the XLG series, and provides three different adjustable drive currents with ranges of 1050~1400mA/ 2100~2800mA and 5500~7400mA. Customers can adjust the output current according to the needs of any application. The advantage of the constant power design is that it provides a wide range of current for different LEDs designs, which can improve the overall efficiency of the luminaires, and is suitable for use with a wide variety of outdoor flood light/horticulture light, bay light and other applications. The XLG series provides three-in-one dimming, which complies with the latest IEC61347/UL8750 and GB7000.1 regulations. The isolation design between output and dimming circuit improves the safety of luminaires, and the dimming function can also be used with smart lighting control systems.


MEAN WELL continues to insist on developing standard power supplies with the best cost-effectiveness to serve customers, and continues to jointly promote products to the world with MEAN WELL PBM (Powered by MEAN WELL) partners, striving to enhance their competitiveness through mutual advantages, innovation and promotions. The XLG series not only provides advantages through its wide range of specifications and functionality, but is also in line with MEAN WELL constantly improving its relationship with customers through its innovative marketing model of exporting products to overseas factories with SKD/CKD solutions to expand services for local customers. If you have any business cooperation ideas, please contact MEAN WELL for details.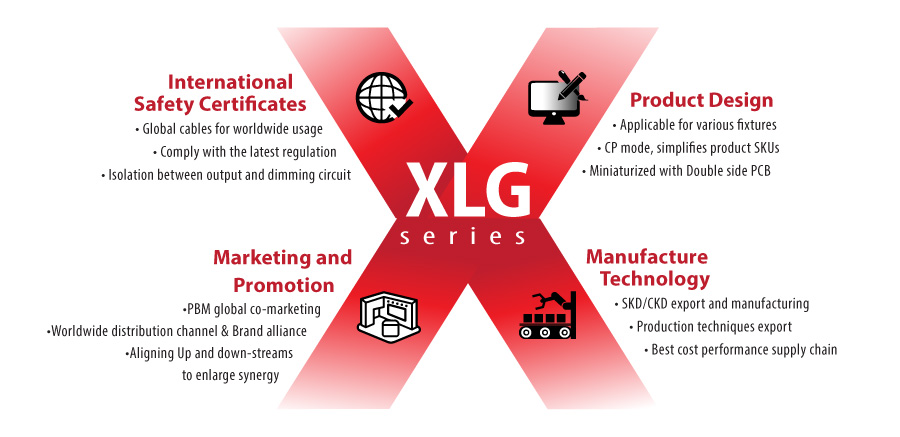 Full power at 75~100% operation. (Constant Power mode)
Wide input range 100-305V AC (Class I).
Protection function: SCP/ OVP/ OTP.
Metal case with IP67 for indoor and outdoor applications.
3 in 1 dimming function with isolation design.
Surge protection: 6KV/4KV (2K/4K V for 20W)
Lifetime >50,000 hrs and 5 years warranty
XLG series including: 20/ 25/ 50/ 75/ 100/ 150/ 200/ 240/ 320W





XLG-20 Series
XLG-320 Series